At the risk of sounding like Charlie Brown's old pal Lucy, Good Grief! I mean, I had some really clever things to say here but Blogger just went and blew those plans right up in smoke didn't they? Anyway, at long last, you can all stop refreshing your browsers as the preppy pumpkin pictures have arrived. *horn sounding, Duh-Du-Duh!* And once again, the monogram momma readers have made me proud! So I'm wiping my hands on my apron to give you all a big round of applause for the fabulous pumpkin entries! So without further adieu....


Show Me Yours!


Kicking off the competition is an entry compliments of our contest sponsor. Let's get a round of applause for Lisa and the
Three Chickadees
and her ultra preppy madras wrapped pumpkin trio to represent the chicks.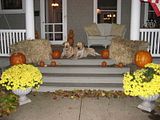 Here is Ashley's front porch, all decked out and ready
for trick-or-treaters, preppy dogs in tow!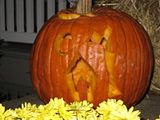 Mr. Ashley attempted a dog house with a tree and crescent moon on his pumpkin, but sadly, Ashley said he chose a bargain basement pumpkin and it was not the sturdiest of the bunch. She does say, however, that he has learned his lesson and will not be skimping next year. Good thing, Mr. Ashley.


In keeping with their dog theme, Ashley has done a fantastic job of carving herself a preppy puppy into the pumpkin, therefore incorporating last months contest
AND
this months contest. Bravo, Ashley. Bravo.
Jill sent in her classic jack's. You know preppies are all about the classic and traditional look so Jill bucks modern tradition by sticking with classic jackolantern happy faces. Hello there, Jacks!
Laura has decided to show her preppy pumpkin spirit in the garden but using her pumpkins as planters this year. Great creative display, Laura!
Susan was the first to repond to the contest and you all know how I feel about being prompt so hats off to Susan! She got a head start on the carving and worked up her little number a week or so ago, but here is her preppy monogrammed pumpkin sitting ever so pretty on a lovely green adirondack chair.
Go on and walk the plank, Sarah, who sent in this pirate from Sunny California! Excellent carving skills and I only have to assume the pirate's head scarf is pink and green, no?


Ever the sorority girl, Emma's pumpkin is giving us a sly little wink. I sure hope she's got her beer in a koozie. No labels visible in pictures, you know!


The Phillips family have really gotten into the holiday spirit with monogram momma. Lovely display of sunfolowers in a carved pumpkin, guys!


Ahoy There Maties! Batton down the hatches and secure the treasure me hardies, 'cuase the Phillips have a pirate on board this year. ARGGGGGGGGGGGGG!

And for our final Preppy Pumpkin entry from the Phillips family, here we have preppy guy "Chad" with his angular jaw, dimpled chin, and perfectly coifed doo, showing his newly whitened toothy grin and sporting his uber preppy fall argyle cardigan.
Would you believe this was done free-hand with no pattern?!?!
Looks like Robin went through the monogram momma archives and opted to give the preppy pumpkin topiary's a try. Worthy of noting here, is that Robin used
real
pumpkins for her preppy-dot topiary's, and knowing that I am a stickler for details, wrapped the based of each topiary with leaf garland. You know how I love those fine details, Robin!
PS. This is her cutie, Ben sporting his pumpkin pj's and fireman hat on the front stoop. No people, while Ben is a cute little pumpkin he is not actually entered in the comptetion as an

actual

preppy pumpkin.
While Pam says that she is not "Martha-worthy," this Martha wanna-be begs to differ. Going the traditional jack-o-lantern and quirky kitty route for the competition, Pam is making a strong debut for her first ever
Show Me Yours
competition. Welcome, Pam!
Watch out fellow contestants, because it looks like Alyson is
serious
about winning that preppy grosgrain belt or headband. After the hot dog entry in the last competition, she has clearly pulled out all the stops with her preppy pumpkins. She sure does mean business with these 5 yes, FIVE, preppy pumpkins! In addition to the two large jack's that her little guy Drew sketched (and she carved), Alyson proudly displayes her monogram momma spirit with a monogrammed pumpkin and two super cute plaid ribbon pumpkins. Way to bring your "A game" Alyson.
Whoop!
A close-up of Alyson's preppy ribbon pumpkins. I love how she "belted" the pumpkins with this preppy fall ribbon by weaving it in and out of the pumpkin and tying it off with a perfect little bow. Who would have thought?! Alyson is clearly proving she is a force to be reckoned with, monogram momma readers.
This cleaver creation was sent in by Heather. Heather chose to go the spooky route and has sent in an excellent example of her preppy bat hanging upside down on a branch. Three-dimensional design is always a "good thing" in my book, Heather!
Now, I'll Show You Mine!
TA DA!Okay, so this is a little teaser first
(he he he).
Here is the front of my house with my preppy pumpkins and outdoor fall deorations from the street, so you can get the full effect. You can see better if you click on the photo to make it larger.
Now, a closer look gives us this. VOILA! On the top level we have a monogrammed pumpkin (you didn't actually think I wasn't planning on doing this, did you?) of course, follwed by mini monogram #1's pumpkin on the left bale of hay, with his silhouette pumpkin underneath his pumpkin. Then on the right, you can see mini #2's pumpkin that he drew with his silhouette pumkin underneath that as well.
Ah yes, a close up of the monogrammed pumpkin. This was a popular favorite this year I see! In the trus spirit of monogram momma, I topped mine off with a little pink and green grosgrain bow.

And upon even closer view we can really see mini #1's artwork at the happy fece he decided to design for his jack, and then the silhouette pumpkin I did with his his silhouette.
And finally, not to be outdone, is this lovely multi-colored number that mini #2 picked out at the pumpkin patch all by himself, and scribbled this scary little face and Mr. Monogram cut it out. You can see his little silhouette I did nestled nicely against a bale of hay as well.
P.S. Just to go ahead and answer this question, no i have no idea why my hay has started sprouting grass when it is sitting in black mulch. Go figure!
Now, because the *fine* folks (and I am using this term loosely) made this as difficult as possible for me today, voting is being extended until 5pm TOMORROW. First place winner will received a preppgy belt and 2nd place will revieve a preppy headband compliments of the finest Chicks we know, The Three Chickadees! So get voting!